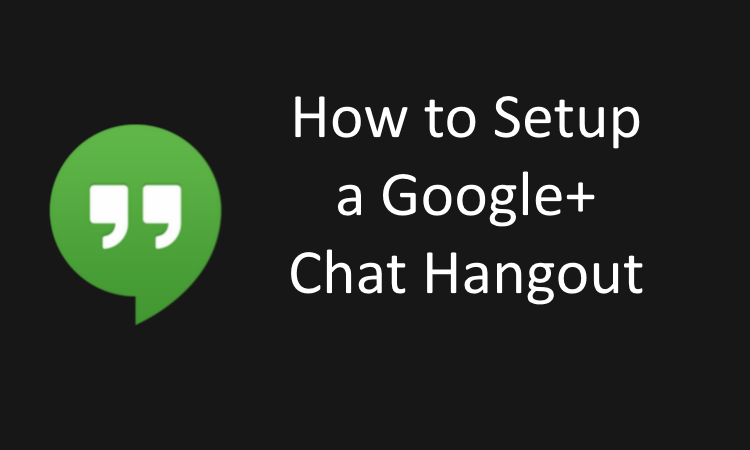 There are three types of Google+ Hangouts:
Chat Hangouts
Hangouts On Air [streamed live on Google+, YouTube, or website, and recorded onto YouTube]
This article will show you how to setup a Google+ Chat Hangout.
Google+ Chat Hangout
A Chat Hangout is the most basic of Google+ Hangouts and it's like messaging.
The Hangout starts as text chat, and can either be one-to-one or a group discussion of up to 100 people. Video chat within that Hangout can be used but it's limited to 10 people.
Additionally, chats can be archived and history saved.
It should be noted that Chat Hangouts can only happen from your Google+ Profile page. They cannot happen from a Google+ Brand or Business page.
So, to get started, open your Google+ Profile page and click on "Hangouts" in the Upper Right Hand corner.

This will bring up a list of people you've recently had contact with.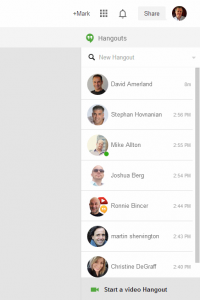 If they're not in the list then you can search for them by clicking the "New Hangout"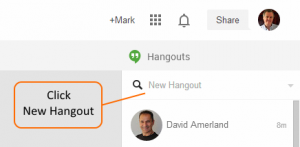 And then "Search for people" by Name, email, number, or circle.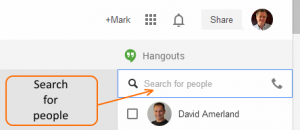 If someone's online and available for a Hangout, their profile picture will show a green circle or "availability bubble" on the lower right of their profile. These people will be notified about new messages or video call invitations immediately.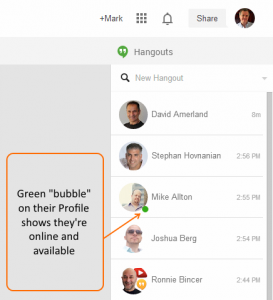 From there you click on an individual's name and a Chat Hangout window opens up.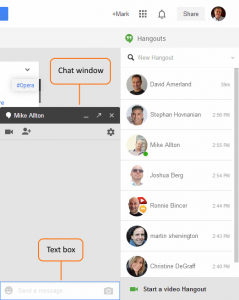 You can now send a text message in the text box at the bottom of the Chat window.
At the bottom of the Chat Hangout window is the Photo icon (lower right), and by clicking that you can select an image to send within the Hangout. This remains private within that Hangout.
Also at the bottom of the Chat Hangout window is the Emotion icon (lower left), to send a smiley face or whatever with the text.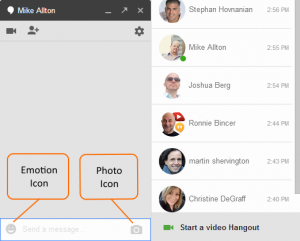 At the top of the Chat Hangout window there are three icons: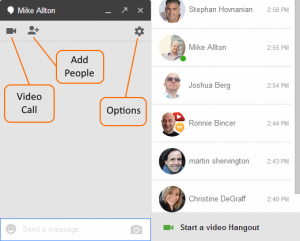 Video call icon – to start a video call with just that one individual.
Add People icon – add more people to "Create a group Hangout" [up to about 100 by name, email, number or circle].
Options or Gear Icon – where you have various Options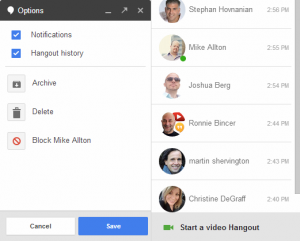 • Notifications – check or uncheck to receive them.
• Hangout History – check or uncheck to record a Hangout History.
• Archive – Archive a Hangout and retrieve it later
• Delete – delete the Hangout.
• Block – block the individual.
When a person is present in a Chat Hangout they will appear with 3 little dots that shows when they're typing and also what sort of device they are on.
The Chat Hangout window will also appear if:
The person's name is checked and name appears in the Search field.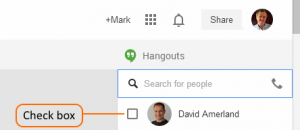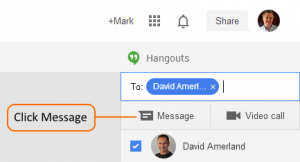 Which opens the Chat Hangout window for that person; or group of people if more than one person's name was checked.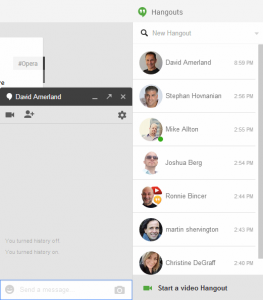 Chat Hangout with Many People (Group Hangout)
The Add people icon [People in this Hangout] at the top of the Hangout bar shows how many people are in the Hangout.
Clicking on the People icon shows who's in the Hangout and who is online because of the green bubble on the bottom right side of their profile.
If you want to add more people then click on the "Add People" icon and then you can choose to add up to 100 people.
Clicking on the Gear on a Group Hangout on the top right of the Chat Hangout window will enable you to check or uncheck slightly different options compared to a Hangout with just one other person. Clicking "Archive" removes it from the main Hangout list but you can return to it later. Clicking "Leave" means you can leave the Hangout and return later but you don't have the option to delete.
You can also Name the Group Hangout.
Clicking on the Video Call icon will start a video call for the people within that Hangout, but it's limited to 10 people.
Hangout Settings:
By clicking Hangouts icon in the Upper Right Hand corner on Google+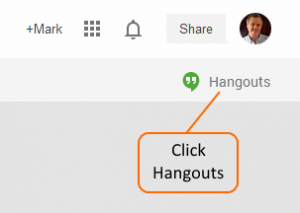 You will see an arrow drop down menu.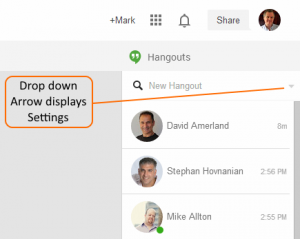 Showing a number of Settings for Hangouts as follows: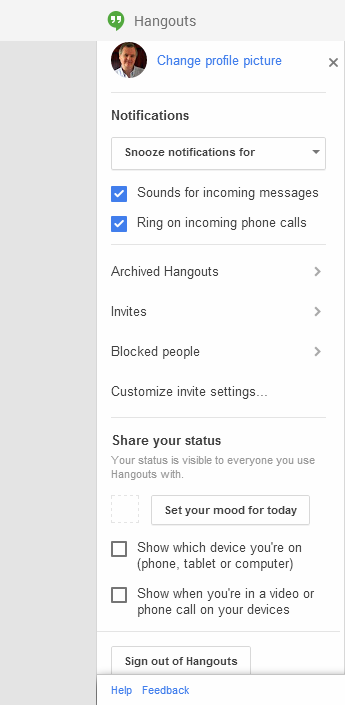 Change profile picture:

Your Hangouts profile picture is the same as your Google+ profile picture.
You can change your Google+ profile picture here (or from your Google+ profile page).
Snooze notifications:

If you don't want to be disturbed you can "Turn off notifications for …" 1 hour, 8 hours, or 48 hours.
This setting temporarily disables notifications across all of your Hangouts apps, including Hangouts on mobile and the Chrome extension. New messages and call invites will appear in your Hangouts list but notifications won't be posted and you won't receive calls.
You can only have snooze notifications for 1 hour, 8 hours, or 2 days.
Sounds for incoming messages:

Check this box if you want to hear if you get a new message or leave it unchecked to mute it.
Ring on incoming phone calls:

Check this box to hear a ring or get a notification whenever you get a phone call. Uncheck the box to mute it.
Archived Hangouts:

See the Hangouts that you've archived.
You can Unarchive a Hangout by clicking it, then clicking on the gear and choose "Unarchive".
Invites:

See your list of invitations for Hangouts that other people sent to you.
Blocked people:

See a list of all the people you've blocked.
Customize invite settings:

For your Google+ Circles: Click this to change which Circles can start a Hangout with you without sending an invite. Select a circle and choose whether they can "Hangout with you" or "Invite only."
For everyone else: You can also adjust the settings for anyone not in your Google+ circles by scrolling to the bottom of the list and changing the setting for "Everyone else."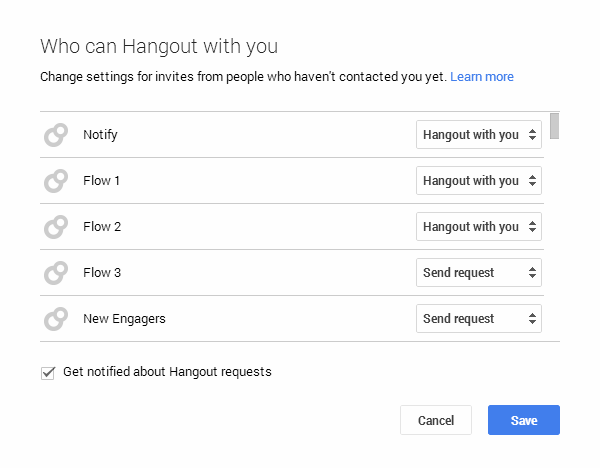 Share yo

ur

 status

:

Other people can see your status in the Hangout conversation window. Keep in mind, whatever status you choose to share on one device, that status will also apply to other devices you sign in to with your Hangouts account as well.
Set your mood for today: Choose what mood you're in. To remove your mood, touch Reset mood. Your mood will automatically reset in 24 hours.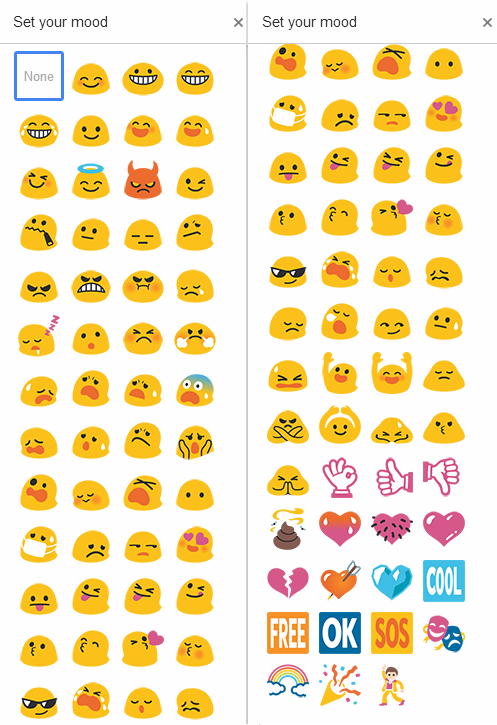 Show which device you're on (phone, tablet or computer): Check to show which device you're currently on. Uncheck this box to stop sharing this.
Show when you're on a video or phone call on your devices: Check to share whether you're in a video or phone call on any of your devices. Uncheck this box to stop sharing this.
Sign out of Hangouts:

This will sign you out of Hangouts on your computer, and you'll appear unavailable to others.
If you're signed in to Hangouts on other devices, you need to sign out from each device.
Hangout – Video Call
From your list of contacts, or those found in the search, you can make a Video call from the Chat Hangout window by clicking on the Video call icon.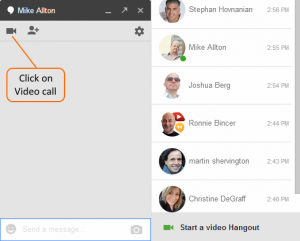 When you make the Video call, the Hangout interface screen will appear.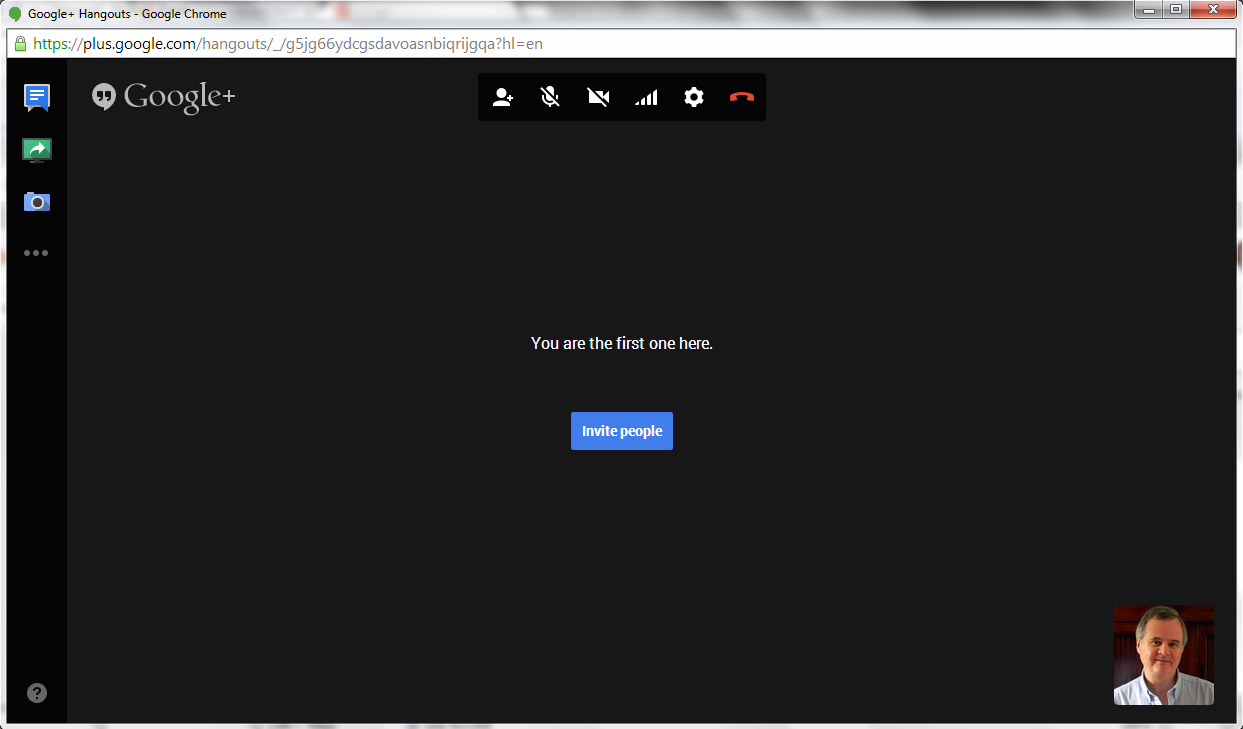 You can then have a conversation or a video chat as well as inviting more people from the "Invite people" icon. Again, a video call is limited to up to 10 people.
At the bottom of the Hangouts section you'll notice "Live video calls!" These are video calls currently happening. You can click into one of these to join the video call and before you go in, a Hangout page appears showing who is in the Hangout and you can choose to enter by clicking "Join".
Also at the bottom of the Hangouts section there is a Video icon to "Start a video Hangout".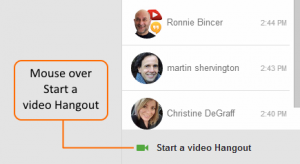 When moused over, the "Start a video Hangout" green button is displayed to begin a Video Hangout, which is the topic of the next article in the series, "How to Setup a Google+ Hangout Video Call".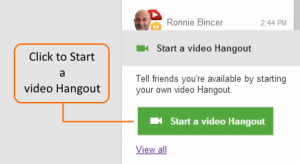 In the first article of this Cornerstone Series on Google+ Hangouts, we discussed what Google+ Hangouts are.
This second article showed you how to Setup a Google+ Chat Hangout.
The following articles will explain and show you: