Months of preparation and iTunes has finally accepted your podcast.
At that very moment, the clock starts ticking and you're given 8 weeks in the New and Noteworthy section of iTunes. To be precise, that's 56 days to make a lasting impression for those who have not yet listened to your podcast.
Time is critical.
It is in New and Noteworthy where the momentum for your podcast starts. It's where you'll first be noticed. It is the launching pad for your podcast, and it needs to be taken very seriously.
What is New and Noteworthy?
When your podcast is approved by iTunes, it immediately appears somewhere in New and Noteworthy, which is on the front page of every iTunes podcast Category.
In total there are 16 Podcast Categories in iTunes. New and Noteworthy appears at the beginning of every Category and Sub Category.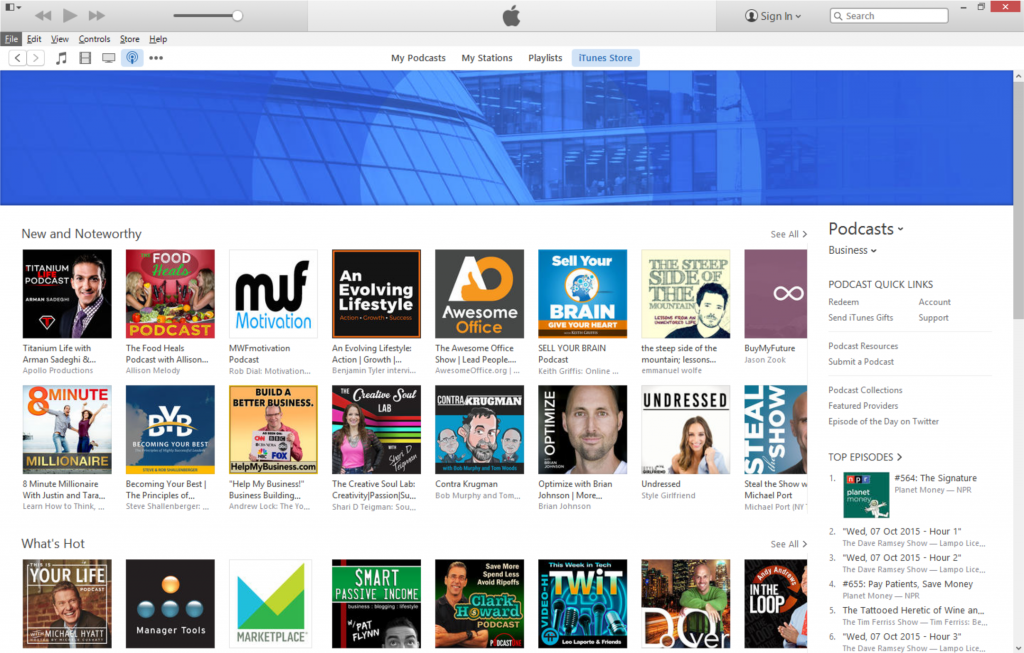 It occupies only 2 rows which, depending on your screen size, represents 16 podcasts.
And that's the aim. To be in those first 2 rows in one or more of the three categories you've chosen for your show.
As mentioned, you're given 8 weeks to make an impression. Your single most important goal during this short period is to push your podcast as hard as you can to get it into the top positions in the categories you've chosen.
By getting into the top 2 rows of New and Noteworthy, people notice. When that happens, momentum will start to drive the popularity of your podcast.
How Does New and Noteworthy Work?
The New bit is easy. Your podcast is less than 8 weeks old, therefore you're in New and Noteworthy.
The tricky part is the Noteworthy. This is what determines your ranking and is mainly based on an iTunes algorithm. Although the algorithm is not transparent, there is enough history and experience from other people's shows to give a fairly good idea of what's involved.
It's a combination of the following variables:
Ratings in iTunes.
Reviews in iTunes.
Downloads through iTunes.
Subscribers who subscribe through iTunes.
Consistency.
The exact ratio of these variables is unknown, but the number of Ratings and Reviews, Downloads and Consistency is extremely important. Let's take a look.
Ratings and Reviews
Your podcast has launched and you've asked family, friends and colleagues to give you a Rating and Review on iTunes. They all say "sure", and some have, haven't, or just plain forgot.
This is hard work and my next post will be about obtaining Ratings and Reviews.
As a teaser, my podcast received in excess of 105 Ratings and Reviews during New and Noteworthy, and you can too!
Downloads Through iTunes
During the 8 week period, you want as many downloads as possible.
Hopefully, you've launched your show with 3 episodes, no matter what your weekly or monthly publishing format is. The reason for 3 shows at launch is firstly, when people subscribe they will get all 3, and secondly, they will get a feel for you and your style of show. That's unlikely to happen with just one episode, and more than three is probably too daunting.
Whether your show's format is 5, 3 or 1 episodes per week (or anything else), you want to publish extra shows during the 8 week period to get more downloads. As people Subscribe to your show, these extra episodes are downloaded.
As an example, my recent podcast on Women's Health had 7 episodes a week format for the first 8 weeks before moving back to 5 episodes on weekdays.
For the most part, downloads and Subscribers are interchangeable. One Subscriber is likely to download past episodes.
Consistency
Consistency is like reliability. It's important because the iTunes algorithm has a 48-hour look back period within it. Every 48 hours it takes a snapshot of where you were then, to where you are now as far as ratings, reviews, downloads, and subscribers are concerned.
This means you need to be continually pushing for ratings, reviews, and subscribers all through the 8 week period. With dedication, a consistent pattern will show an increase in ratings, reviews and downloads compared to the prior 48 hours, or even week before.
Done consistently, you'll rank far higher in New and Noteworthy. The higher you rank, the more exposure you have which means more Subscribers and downloads.
The 8 Week Call to Action (CTA) Plan
It's common for podcasters to have a Call to Action (CTA) at the end of their show by asking their audience to leave a 'Rating or Review' in iTunes.
Sounds good but it's lame because both are important. Be bossy!
Ask your listeners to leave a 'Rating and Review' for your show.
Then alternate with a different CTA every second show.
Ask your listeners to 'Subscribe' to your show.
Remember, make it simple for your listener, and only use one CTA per show.
New and Noteworthy is Not Totally Automated
That threw a spanner in the works!
There is a manual component to it, just like your podcast needs to be manually approved.
Yes, the general ranking of a podcast in New and Noteworthy is determined by the fundamentals of the algorithm and its variables, but then it's manually placed by a person.
When my podcast was in New and Noteworthy, I could be ranked 6 or 8 in the morning, then at 30 or higher in the afternoon. This was a consistent pattern over a 4 week period of ranking very high in the morning and much lower in the afternoon, without any major change to ratings, reviews or downloads.
A similar pattern occurred with other podcasts I was following at the time in New and Noteworthy.
Proof of Manual Placement in New and Noteworthy
A recent example of a podcast being manually placed and ranked in iTunes is that of the The Self Publishing Podcast with Johnny B. Truant, Sean Platt, and David Wright.
On August 5, 2015 they were on Episode 169 of a weekly 1-hour format show. They had many weeks under their belt.
For Episode 170, they decided to reboot and rebrand the podcast complete with new artwork.
So on August 11, 2015 they did a short 2 min episode, which they called Episode 0, explaining the changes, the reasons behind the new format, and why they were doing it. The previous 169 Episodes they archived under Self Publishing Podcast Classics
Then, on August 12, 2015 they released Episode 170 with the new format and their normal 1-hour weekly show.
The kicker is they let iTunes know what they were doing and why, and asked iTunes to consider putting them back into New and Noteworthy. And iTunes did.
On Episode 171 they were #2 in New and Noteworthy all across iTunes. They stayed in that exact same spot, without moving, for 1 whole week. Hardly new but definitely Noteworthy.
Another example is that of the podcast Hack The Entrepreneur with Jonny Nastor. At the end of the 8 week period, Jonny emailed iTunes requesting an extension of time in New and Noteworthy.
His email was short, concise and gave a compelling reason why his podcast should be granted an extension. The result was an extra 2 weeks in New and Noteworthy for his show.
Summary
Everything for your podcast starts at the 8 weeks of New and Noteworthy. It's during this period that you have to work and push very hard to get ratings, reviews, downloads, and subscribers. You also need to be consistent in doing so during the 8 weeks.
With that goal in mind, your podcast will build a base, develop momentum, and start to rank well in its categories. If you're in the top 16 for your category, your podcast is being seen by the tens of millions of people on iTunes.
New and Noteworthy is a means to an end to gain that momentum to get ranked in the top spots.
It's a self-fulfilling prophecy. As soon as you get more interest in your category, then you start to dominate New and Noteworthy. iTunes sees you're getting massive attention in your category, and they manually place you into the top positions.
And it's a prophecy worth aiming for!