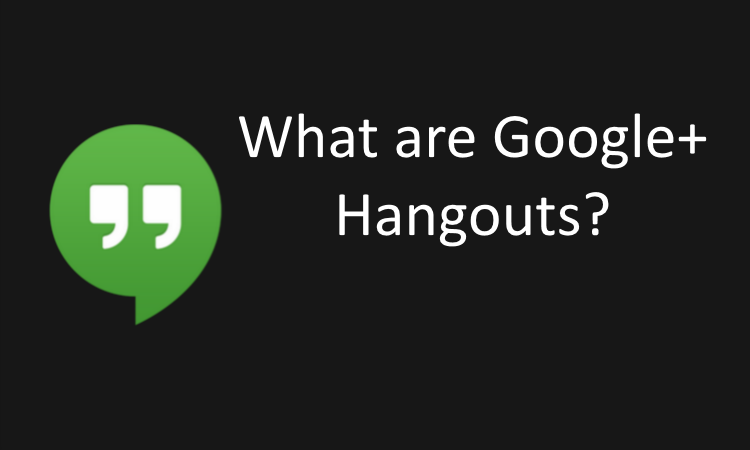 Sounds like casual street talk – "lets hangout". But when Google introduced Hangouts to the Google platform in May 2013, very few grasped that it would revolutionize communication across the internet.
Google Hangouts is a free live broadcasting platform developed by Google to enable instant messaging, video chat, and live events which can be recorded and saved onto YouTube.
Different Types of Google Hangouts
There are three types of Google Hangouts:
Hangouts On Air [streamed live on Google+, YouTube, or website, and recorded onto YouTube]
At its most basic, Google Hangouts can be one-on-one chats (like Messaging) or group chats of up to 100 people. This may be in text or voice and are simply known as "Chat Hangouts".
If they're Google Hangouts in video format, then they're "Hangout Video Calls" (HVC) or Video Hangouts. Up to 10 people can participate in Video Calls.
More advanced are "Hangouts On Air" (HOA) which can be public live broadcasts and may have up to 10 people within the Hangout and an unlimited number of people watching live. These Hangouts On Air are live and can be viewed on Google+, YouTube, or on a website (by embedding the code).
A Hangout On Air is recorded onto YouTube and can be viewed immediately after the Hangout has finished.
A Hangout On Air can also be totally private and recorded privately to YouTube. This feature is ideal for consultations.
The most popular is a Hangout On Air Event which is an Event held at a later date. Read below to see the benefits of a Google+ Hangout On Air Event.
Hangout On Air Event
When a Hangout On Air occurs as a Google Event (Hangout On Air Event), it is being held as a future Event. This is the most viral way possible to broadcast your message. That's because the Event page acts as a Landing Page which dramatically increases your audience reach before, during and after the Event.
Benefits of a Hangout On Air Event
The major benefit of a Hangout On Air being done as an Event, is that the Event page acts as a Landing page which can be used before, during and after the Event.
Not only is the Event broadcast live, but it's recorded for immediate access as a YouTube video, thereby greatly extending its shelf life to view, share and comment later.
Also, the other major benefit of a Hangout On Air Event is direct audience participation. Viewers can ask questions before and during the Event, and you can respond directly to them during the live broadcast or after in the comments section of the Event page. This encourages strong user engagement which leads to greater sharing.
Benefits of a Hangout On Air Event for Business
For businesses the benefits of face-to-face interaction, with its visual and auditory feedback, is invaluable. You're able to see the person and their body language, hear the person and their tone, and in doing so get a feel for that person. Hangouts allow you to deepen that relationship and whether it's online or offline, the knowing comes before trusting.
These are the psychological points that make Hangouts On Air so beneficial to business. With relative ease, a Hangout On Air can establish an online reputation, cement authority, and build brand trust. Bottom line, they're a shortcut to building trust.
Hangouts On Air have been described as disruptive technology. The features are impressive, the cost is negligible, and it's built on a powerful platform that incorporates search. But at its simplest, Hangouts allow us to focus on what matters most, and that is relationships. Relationships lead to trust.
Because the communication of Hangouts On Air is face-to-face, the "know, like and trust" is accelerated to build such relationships. This will have a major impact on online marketing and how businesses can reach their customers.
Basic Requirements for a Hangout On Air Event
Hangouts On Air are a breakthrough technology for real-time marketing and connecting with your audience. Amazingly, it's free with the very basic requirements being:
Google+ and YouTube account
Broadband Internet connection
Computer
Webcam & microphone
Cornerstone Series of Articles on Hangouts
What now? This is the first article in what will be a Cornerstone Series of articles on Google Hangouts.
The following articles will show you:
---